Once your B2B business or industrial company decides to exhibit at a trade show, you want to know how to make the most of this investment and attract the right visitors. Trade show marketing and promotion are incredible ways to get your service or product in front of hundreds of people on a given day.
Having your B2B trade show display can offer unparalleled opportunities to build relationships, boost brand awareness, and generate leads. However, if you look around at most trade shows, you will discover many other companies and businesses vying for attention.
To make sure that your B2B trade show marketing and promotion efforts do not fall flat, you should consider these simple trade show tips that will draw in a crowd and help you reach your business goals, allowing you to get the maximum return on your trade show investment.
Plan Your Trade Show
Your team must start by determining your main goals and objectives for exhibiting. It is best to create a list of clear and measurable goals to keep your trade show reps motivated and focused. Your goal can be the number of leads you would like to capture or an increase in your B2B brand's social media following.
And it is insufficient to say that you will use the event in order to generate leads. A more specific and better goal would be to "gain 10% more leads than you acquired at the previous year's trade show. And by determining that, you will set your industrial business or B2B firm up for success and make informed planning decisions as well as have clear metrics and criteria to use when calculating your ROI.
You can leverage your social media channels, such as Facebook and your website, to publicize the trade show before the due date. Once you start planning for the trade show, choosing an excellent booth location should be at the top of your list.
Keep Promotional Materials Simple
If you want to hand out any kind of brochures or literature, it is best to keep it simple and concise. The more concise the material, the better it is. And if you think that literature is a must, you should come up with an offer to include items, like a free whitepaper or eBook, a digital coupon, or some other exclusive offer.
Be Clear about Schedules
If you've a trade show booth, you should make sure that everyone knows who's working the booth, roaming and managing the floor, or in meetings.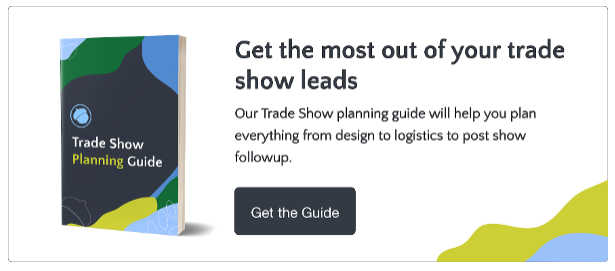 Design an Interactive and Striking Trade Show Display
Note that the idea is straightforward: the more visitors or prospects you get, the more B2B leads you can capture. But how can you attract more people to your trade show exhibit?
You have to engage your booth guests and visitors in an unforgettable way. You can give them something to do that will allow them to engage with your B2B brand.
You need to get creative with your trade show booth design. This is because the trade show floor can be very overwhelming for guests and attendees. You can stand out in the following ways:
Engage all the five senses. You can do more than merely display graphics. Consider adding videos, sounds, and textures that fit your theme.

Integrate the latest technology into your trade show display, such as getting high-tech with augmented reality or adding a social media wall.
Final Thoughts
As you can see, functionality, simplicity, and engagement are the 3 key areas that you would like to focus on when planning your next B2B trade show for the highest ROI.