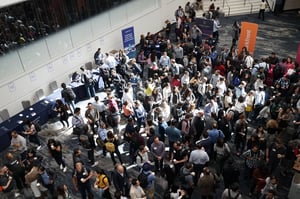 Covid-19 has seen the cancellation of many trade show events in Canada in the US. Many of these events have been moved over to 2021 while some of the larger manufacturing and industrial trade shows have been pushed out to 2022.
Trade shows continue to be an excellent source of leads for industrial manufacturers. Whether you attend as an exhibitor or as a guest you can walk away with a ton of information, leads and new business. These upcoming trade shows boast some of the biggest audiences and should be flagged on your marketing calendar.
Attending trade shows as an exhibitor is a significant investment and the planning that goes into it can take up a lot of resources.
Need help planning your next trade show booth?
We've researched some of the best shows for manufacturers to consider attending. Here's the list.
1. National Heavy Equipment Show (Toronto April 15 & 16, 2021)
This long established show brings 13,000 through the doors over two days. Bringing together the industry leaders in Canada's heavy equipment, road building, construction, snow + ice management, crushing and screening and infrastructure sectors.

Exhibitor Space: Starts at $15.50/square foot
Admission Costs: $10 per person
2. Advanced Design and Manufacturing Expo (Toronto May 11-13, 2021) http://admtoronto.com/
The Automation Technology Expo (ATX) has joined forces with the Design & Manufacturing and Powder & Bulk Solids shows to create a new all-under-one-roof experience for industry professionals.
This event brings together the best in manufacturing including showcasing cutting-edge technologies, networking and educational opportunities. The 3-day event attracts more than 5,700 attendees
Exhibitor Space: starts from $38.25/square foot
Admission Costs: $125 + HST per person for all three days of the show
3. CMTS - Canadian Manufacturing and Technology Show (Toronto, October 4 - 7, 2021)

https://cmts.ca/
More than 9,000 attendees engaging with 700+ exhibitors on the floor
Workshops, keynotes and live demos all centered around Machine Tools, Tooling, Metalworking, Forming, Fabricating, 3D Printing, Automation and Design.
Industries represented at the show include aerospace, agriculture, alternative energy, automotive, commercial and industrial machinery, construction, consulting/engineering R&D, electronics/computers, fabricated metal/stamping, food processing, government/defence, medical/surgical, mining, oil and gas, pharma, plastics, transportation and utilities.
Exhibitor Space: $33/square foot with discounts on larger booths
Admission Costs: Exhibit floor is free with advanced registration for industry professionals. Full conference ranges from $225-$1200
Featuring a variety of technologies dedicated to Forming & Fabricating, Tube & Pipe, Metalforming, Welding, Thermal Spray and Finishing. With more than 300 exhibitors and in excess of 7,600 visitors, this show attracts a national audience of prospective buyers. There are workshops, keynotes and networking opportunities.
Exhibitor Space:$33/square foot with discounts on larger booths
Admission Costs: Free with advanced registration for industry professionals
5. IMTS (Chicago, September 12 - 17, 2022) https://www.imts.com/
Coined as one of the largest manufacturing and technology shows in North America with close to 130,000 attendees, 2,500 exhibitors over 1.4M square feet of space. It's well established and recognized by most people in industry.
Factoring in travel costs, exchange rates and the higher than average exhibit space, this is a show that will need some extra time to plan ahead to clear budgets and work on the logistics of your attendance. If you attend simply as a visitor, be sure to wear comfortable shoes, there is so much ground to cover you'll have a hard time getting it all in. Make sure you have a game plan to get to all the vendors and events you want.
Exhibitor Space: $33 USD/square foot
Admission Costs: $45 USD per person, discounts available
-30-