We're all excited at the prospect of meeting clients – new and old – at trade shows again. Why not reflect that energy in the messages you send out before you even get to the party? That way, you get the most out of your investment in time, booth fees and giveaways.
With the right strategy, you can walk away from a show with renewed relationships and a fistful of business cards that will lead you to new customers and revenue.
Start by mapping out your messages on a calendar with each segmented list so you don't spam people with too many repetitive messages. Each email should have a specific call to action. (You'll see why as you read along further).
Next, align all this with your social media calendar, tagging the event and the organization behind it with the right hashtags. As a result, you'll have those details handy to post photos and updates from your booth if you get any downtime.
1. See you again soon!
Remind past contacts to look for you at the show eight weeks beforehand. Get them as excited as you are about attending the show. Write a few warm sentences that include their company name and the event name. Share your booth number so they can easily find you so they can update you in person how business is going.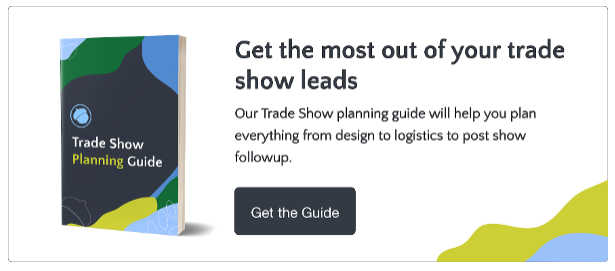 2. Hey, we're heading to this show!
Tell your existing vendors and customers that you're going to the upcoming event. Not only does it show you're seeking new information as an industry leader, you may see them there.
This also shows you are open to sharing information in hopes that they can jump on this opportunity as well. Share your booth number and the registration link in case they follow your lead. The event organizer may give you a special link to track how many people you draw in.
3. Announce your theme and team
Share who will be at the show on behalf of your business and what you'll be demonstrating or giving away. Offer the chance to book appointments via each team member's email address so you make the best of attendees' time. Use this tool from HubSpot to make it easy. Use photos so people coming to the show will know the faces to watch for in the crowd.
4. Give a preview
Share your tips as a veteran of previous shows as a helpful guide to newcomers or those who haven't made the most of their last visit. You can offer a link to a blog on the topic or create a checklist. You can also share some background links about some of the issues coming up for discussion, projecting your expertise and insight. If you have any video from another year, post it to YouTube and share the link in this message.
5. Show off your booth
You've worked hard to set up a great display so why keep it under wraps! Send out a message to announce that you've arrived and share a photo of your team in their company shirts. You can also give a shoutout to a client or partner business set up next to you, all smiles and ready to go.
Remind people where you are and what you're giving away, especially if it's food or beverages. Invite them to visit you and ask any questions they may have. Don't give out your whole spiel but make your message enticing and welcoming.
Before you head out, draft your follow-up email so there is not an unnecessary delay between new prospects meeting you and hearing from you again. You can always personalize and tweak it once you get home, but this vital step often gets lost in the shuffle of the return to the office. We have created some editable templates to help.

If you take all these steps, you'll be the life of the party while other vendors stand in their booths, bored to tears. By speaking to each audience with the right tone and call to action, your time at the show will fly by and pay off with new and restored revenue.